Why Do We Use Sandwich Wall on the Tents?
2023-08-31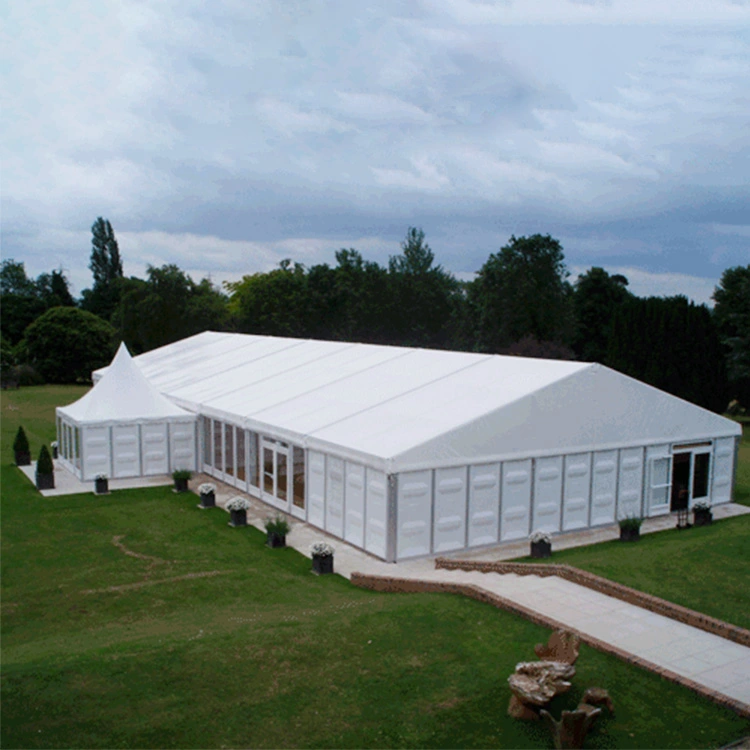 Although most tents are accustomed to using PVC fabrics, in recent years, solid walls are more and more widely used in tents, especially sandwich walls. Compared to PVC, it has some special advantages.
First of all, sandwich wall has a certain thermal insulation effect. Sandwich walls originated in developed European countries with cold climates . In Finland, this type of wall panel structure has been used for at least 50 years. It is extremely popular in Northern Europe, and has its own unique advantages in cold regions. Fortunately, it has also been valued by the international community in recent years, making it gradually attract more attention in hot countries and regions. Sandwich wall panels can provide a complete exterior protection with good air tightness, and can resist mold in hot and humid environments. Therefore, it is also widely used in the tent industry.
Compared with PVC fabrics, although sandwich walls are not as convenient for transportation, they are generally more durable than PVC. In the case of reasonable storage, it can be used for at least ten years. The sandwich wall is more suitable for long-term fixation, which greatly reduces the abrasion caused by frequent installation and disassembly, making the sandwich wall more durable. Therefore, tents with sandwich walls are widely used as storage tents, workshop tents, exhibition tents, etc.
A sandwich wall is a type of wall that is made up of two layers of material, with aluminum board outside and insulation material between them. 

The insulation in the sandwich wall helps to keep the tent warm in cold weather and cool in hot weather. This helps to maintain a comfortable temperature inside the tent and reduce energy costs for heating and cooling.

The insulation also helps to reduce noise inside the tent by absorbing sound waves. This is particularly important for events held in noisy environments, such as concerts or festivals.

The two layers of material in the sandwich wall provide additional strength and durability to the tent. This helps to ensure that the tent can withstand wind, rain, and other weather conditions.

The sandwich wall can also help to keep moisture out of the tent. This is important for tents used in wet environments, such as camping or outdoor events.
Foam board wall and rock wool wall are two durable solid wall options that can be used for outdoor tents.

Foam board wall is made up of a rigid foam core sandwiched between two layers of material of aluminum. This type of wall is lightweight, easy to install and provides excellent thermal insulation. Foam board is also resistant to moisture, making it suitable for outdoor tents. However, it may not be as durable as other options, as it is susceptible to damage from impact or puncture.

Rock wool wall, on the other hand, is made up of mineral fibers that are bonded together. It is a dense and rigid material that provides excellent thermal insulation, sound insulation, and fire resistance. Rock wool is also resistant to moisture and pests, making it ideal for outdoor tents. 

Both foam board and rock wool walls are good options for durability solid walls for outdoor tents. The choice will ultimately depend on the specific needs of the tent and the environment in which it will be used.