The advantage of Transparent Party Tent
2023-08-19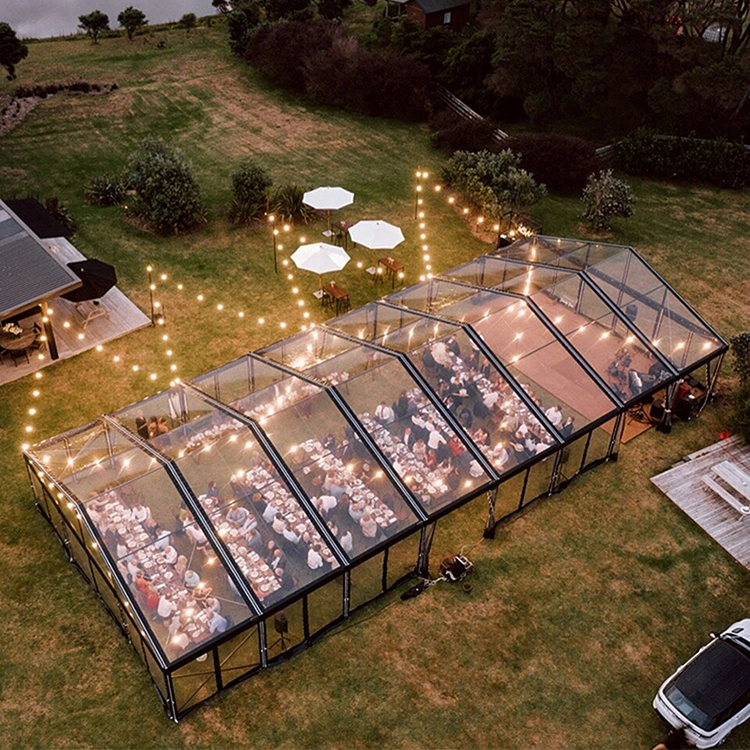 Transparent tent is a wise choice for outdoor weddings, concerts, company evenings and other activities, it will add a lot of luster to your events! If the activity is held in the daytime in areas with strong ultraviolet rays, you can choose a white shading PVC roof with transparent side walls, which will block ultraviolet rays without obstructing natural lighting. If the event is held in the evening, using transparent PVC cloth for both the top and side walls will be a good choice. You can add a variety of lighting and ceiling accessories to the tent, which will make your event more attractive. 
Why do so many people are choosing the transparent tent for wedding and party events now?  There are some advantages. 
1. Aesthetically-pleasing: Transparent party tents are visually stunning and create a beautiful atmosphere for any event.
2. Natural Lighting: With transparent party tents, you can benefit from natural light during the day, reducing the need for artificial lighting.
3. Versatile: Clear tents are versatile and adaptable, perfect for a wide range of events from weddings, parties, to corporate events.
4. Protection: Transparent tents provide protection from the elements such as sun, rain, and wind, allowing you to host an event outdoors without worrying about weather conditions.
5. Incredible views: With a transparent tent, you and your guests can enjoy the breathtaking views and scenery of the surrounding area.
6. Customizable: You can customize the clear tent to fit your event's needs, such as selecting the size, shape, color, and design.
7. Cost-effective: Clear tents are cost-effective, providing an affordable way to host an event outdoors without the need for large-scale construction.

Overall, the advantages of a transparent party tent are numerous, offering a unique and visually-stunning way to host events while providing protection against the elements.
After konwing the advantages of the clear wedding party tents, then how to choose a suitable transparent party tent for your events?
First of all, the material used for the tent should be sturdy and durable, and can withstand wind, rain, and other weather elements. We normally use the 0.5mm to 0.95mm thickness clear PVC membrane for the roof and sidewalls. Secondly, you should consider the style of your event. Will a more traditional tent style work, or do you want a more modern or unique style? MiTent Group's transparent tent can be made into A-shaped tent, curved tent and pagoda tent. Such a beautiful transparent tent will be greatly praised by the guests! Thirdly, you need to determine the size of the tent that will accommodate your party guests and the furniture you plan to have inside the tent. And then, the cost of a transparent tent varies based on size, style, and material, so you need determine your budget and find a tent that fits your needs within that budget. In that way, choose a reputable vendor who can provide high-quality tents and reliable service is very important. MiTent Group is a perfect choice!